Next up - Princeton 300k - May 7th
UPDATE # 3 (5.4.16)
All pre-rides are concluded.  All materials posted to the web-site are now final, updated as of yesterday (5.3).  Due to low registration numbers the Friday night check-in at the Westin Hotel is cancelled.  All riders may check-in Saturday morning from 3am to 4am.  There will be a tent set up in the parking lot by College Road and Houghton Lane across from Ruth Chris Steak House.  
All riders will need lighting (front and rear) affixed to bicycle and reflective vest or sash as well as reflective ankle bands.  A helmet is also required.
There are 17 riders expected to take the start.  Mostly the weather forecast is good, with the possibility of some morning showers.  The remainder of the day appears clear with a high temperature in the upper 60's.  
Registration is open until Thursday at 11:59pm!  There is no day of sign-up available.  All riders must pre-register!
Here's who's coming so far (as of 5/5 @ 8:00pm):
Charles Arayata, Ed Bernasky, Marcevir Bernardo, Christoph Boeckeler, George Brandt, Laurent Chambard, David Copely, Tim Conway, 
Nicholas Gigliotti, Michael Gorman, Eric Grayson, Vadim Gritsus, 
Jeffrey Gregg, Vincent Hastings, Todd Kerekes, Paul Kramer, Gil Lebron, Jamie Levy, Ian Mangion, Kate Marshall, Gary Mass, Jeff Moore, 
William Olsen, Walt Pettigrew,  Todd Peterson, Paul Shapiro, Will Sherman, Christoper Slocum, Keith Snyder, Victor Urvantsev, Paul Weaver
31 Riders Total
UPDATE # 2 (5.2.16)
The detour around the bridge closure in Port Murray is tested.  The cue-sheets and RWGPS map have been edited accordingly and are now posted to the 2016 Events page of the web-site.  These materials should be final.  Although we are planning to do one more mid-week pre-ride to be sure.  We'll post any final tweaks after that, if there are any.  Additionally, there is an updated information and route description on the 2016 events page of the site.  Finally, please read the safety instructions which are now posted in the same location. Your safety is our primary concern.  This information may be helpful to you with completing the event unscathed.   The current registered rider list is below.  Still plenty of room, but, registration closes Thursday, May 5 at 11:59pm.  
Don't miss out on stunning scenery and iconic New Jersey climbs.  Click here for the events page
UPDATE # 1
Pre-riders have undertaken the Princeton 300k route on Saturday, April 30th. One minor re-route is being worked at this time for a bridge closure in Port Murray.  The work around, which will be tested today, will not add mileage and is on pleasant roads.  The route map has been updated to reflect this. The cue-sheet will be updated later today.    
Original Info
May 7th will feature the challenging  Princeton 300k from Princeton Forrestal Village (registration now open).  This is a classic New Jersey route and one of our most scenic.  There are iconic extended climbs including Jenny Jump State Park and the Penwell Road climb up Schooley's Mountain.    
What's After the Princeton 300k?
The very popular flat New Jersey 400k, from East Windsor, will return on May, 21st (registration now open).   
For those not interested in such a long day the Batsto 200k, from the Lower Bank Tavern in Egg Harbor will be held the same day as the 400k.  Riders will start the 200k at 7am.  (registration now open)

On June 11th and 12th we will deliver the brand new Princeton 600k from the Clarion Hotel - Palmer Inn.  The first loop is a fairly hilly 218 miles venturing into PA.  Riders will return to the Palmer Inn where rooms are provided for sleep.  The second loop is 158 miles and is mostly flat heading to Tom's River.  Detailed maps and cue-sheets of this route are now posted to the events page.  Due to hotel space limitations in the Princeton area their is a field limit of 25 riders imposed. (registration is now open)

For a change of pace we will host a RUSA Arrow on July 9th and 10th.  This is a team event similar to the fleche, but held during warmer weather.  The most exciting aspect of this new for 2016 event is we are holding it for the benefit of  Hunterdon Youth Services.  A recognized charity who provides shelter and passionate care to at risk adolescents.  Put together a team, design a route and get on board with this first time happening in Central New Jersey.  The ride will finish at Pete's Bike Shoppe in Flemington, NJ.  More details on the events page. 
Our season will end in September with the challenging and scenic NYC 200k, back by popular demand.  
More details on our 2016 Brevets can be found on the Events Page.
Those new to Randonneuring should visit the Brevet FAQ page.
We look forward to seeing you!
Joe Kratovil
RBA  New Jersey - New York
City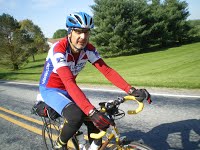 Re-Cap of Past 2016 Events:
Fifty-Two Riders Finish Cranbury 200k
The Randonneur Season officially opened in New Jersey this past Saturday as 52 departed Cranbury on a rainy morning to undertake a 200 kilometer tour of Central New Jersey and the Jersey Shore.  
While the morning was a bit wet the day would turn to sunshine and favorable winds making for the fastest edition of the Cranbury 200k in the history of the event.  The first group would make the finish in 7 hours, 35 minutes, about one-hour faster than the previous course record.  Many more would arrive in under the nine hour mark.  
Also, a new record for the number of volunteers around the route to offer support and document the riders through controls.  All controls were manned by multiple volunteers who provided much encouragement to many first timers attempting the event.  
All who started found their way to the finish within the 13.5 hour time limit.  Although, one rider, new to the activity, would require the full time allotment to get it done.  He was greeted by two volunteers and slices of warm pizza at the finish.