New Jersey Devil 300k
Flat and Fast Southern NJ Brevet
Final Update - Jersey Devil 300k
All FINAL rider documents and information are now posted to the 
events page
of the web-site.  This includes Safety Information which should be required reading for all participants.  Copies of this material will be in rider packets given to riders at the check-in
beginning
at 4:00am.  Check-in will be in the parking area of the Econo Lodge, Hammonton, NJ.  The brevet will start promptly at 5am from the Parking Area and finish at the same location.    
Registered Riders -  35 - Final
Frederick Akesson, Marc Bernardo, Christoph Boeckeler, Tim Conway, 
Mario Claussnitzer, Joe DeAngelis, Mary Foley, Evan Gold, Eric Grayson, Nigel Greene, Vadim Gritsus, Tim Hassall, Nathan Herzing, Katherine Kang, Simon Korzun, Paul Kramer, Gil Lebron, Jonathan Levitt, Mara Miller, 
Randy Miller, Gerry Montague, Patrick Mussleman, Rajesh Nayak, 
Todd Peterson, Michael Povman, Bill Russell, Julio Salazar, Rudi Saldia, 
Bill Schwarz, Chris Slocum, Kieth Snyder,  Dax Soule, Tru Tran, 
Nicolaas Van der Kloot, Jim Vreeland
Registration for this event is now closed. No day of registration is accepted.  
June Events
Wildwood 400k -June 3rd
Riders should be well prepared for this new scenic and mostly flat route venturing through Central and Southeastern New Jersey.  The shore points of Ocean City, Avalon and Sommers Point will be passed en-route to Wildwood and Cape May Courthouse.  Start and finish will be at our host hotel the Days Inn, East Windsor, NJ.  This route is approved for use as an ACP Brevet by RUSA.  Pre-rides will be taking place in Mid-May and updates will be published to this web-site.  More Details are available on the 
Registered Riders = 10 as of 5/25 @ 7am
Marc Bernardo, Razvan Buciuc, Tim Conway, Alfred Dolich, Nathan Herzing, Simon Korzun, Paul Kramer, Joseph Ray, Rudi Saldia, Dougin Walker
Princeton 600k - June 24th
Back by popular demand is this two loop route, with a challenging first loop, This 600k proved difficult to conquer on our first running of it last year.  Heat and high winds, along with a wildfire, were responsible for many DNF's.  None the less, when put to a majority vote it won out over all other options.
This event is now open for registration.  The field is limited to 26 participants.  Please read all information before signing up.   Details are available on the 2017 events page of this web-site!
Registration for this event is now closed.  The field limit is reached.  Those wishing to participate may have their names placed on a waiting list.  As it is likely some currently registered riders may not be able to participate their registration can be transferred to another person.  Please use the contact us link to e-mail the RBA to have your name placed on the waiting list. 
Registered Riders = 26 - Final
Eoghan Barry, Marc Bernardo, James Bondra, George Brandt, Tim Conway, Jan Dembinski, Alfred Dolich, William Fischer, Michael Gorman, Nigel Greene, Greg Keenan, Paul Kramer, Yoko Miyazaki, Todd, Peterson, Joseph Ray, 
Bill Russell, Rudi Saldia, Paul Shapiro, Will Sherman, Theodore Shwartz, 
Chris Slocum, Dax Soule, George Swain, Alexy Vishnyakov,  Jim Vreeland, 
Takeshi Wantanabe
Waiting List
(1). Kate Marshall (2). Victor Urvantsev (3). Richard Ruge (4). Gil Lebron 
(5). Vadim Gritsus
We look forward to seeing you!
Joe Kratovil
RBA  New Jersey - New York
City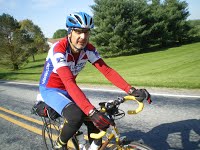 Past 2017 Events
Twenty-six Riders Finish Batsto 200k
The Batsto 200k Season Opener took place as scheduled.  The weather forecast which predicted a cool day with rain showers kept a few registrants from taking the start.  The 26 riders who decided to clip in all made it to the finish and enjoyed a meal provided by our host, Lower Bank Tavern, where Bill's Veggie Burgers were reported to be a crowd favorite.  
Despite the less than favorable weather some riders took to the flat route in high spirits and turned in some fast times.  Jim Vreeland made it around in a very spiffy time of 7 hours 9 minutes, which is the fastest time on record* for the south jersey route.  Two other riders were under the 8 hour mark and a total of 11 riders were under 9 hours. 
Volunteers were on hand at all controls to provide water, energy bars and encouragement as needed.  All things considered it was a fine day for a South Jersey Brevet.  Click here for Results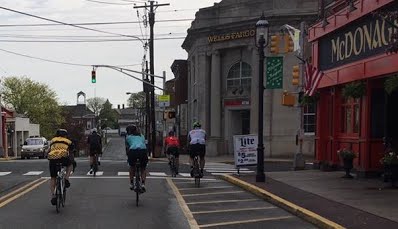 Cranbury 200k Riders in Asbury Park, NJ                      
Sixty-Two Riders Finish Cranbury 200k
In what is becoming a tradition for this spring brevet heavy rains combined with lightning moved in an hour before the start leaving behind a soggy wet Village Park.  The violent storm kept a few from making their way to the start, but the large portion of registrants would take to the roads on time.  
It was a warm morning which would quickly progress to the hottest day of the year.  This presented quite a challenge to many of the riders.  Volunteers were on hand at every stop providing water and much needed moral support.  Unfavorable winds would add to the difficulty factor on the second half of the route.  None the less a new course record was set by Jim Vreeland of Piscataway, NJ.   Vreeland bested the former fastest time by one minute.  There were a few other spiffy times, but most of the field just wanted to survive the day.  
A steady stream of finishers arrived at the Italian Touch Restaurant beginning in the late afternoon through to the early evening.  All finished in daylight and enjoyed Pizza and beverages.  The mood was festive with many lingering and chatting with fellow riders.  All but two that started found their way to the finish.  Navigation issues and a mechanical failure where the cause of the DNF's. 
Results are avalable at the link below.
Fourteen Complete the Challenging Englewood 300k
A cool rainy morning caused some suffering for the 17 riders who chose to take the start.  Twenty-two percent of those signed up decided to take a pass and stay home.  The first of the starters to bail out would do so after only an hour.  The first intermediate control at West Milford would see another rider pack it in.  A third would call it a day at Port Jervis with a knee injury. 
Weather improved by afternoon and the remaining field would have reasonable temperatures with light wind for the rest of the brevet.  A small army of volunteers were on hand to attend to the needs of the 14 riders who were still pedaling.  With the improved conditions no one else was destined to abandon.  
In just over thirteen hours Ian Mangion would find his way to the finish just ahead of Jim Vreeland.  Dougin Walker and Warren Finnerty would arrive together about one hour later.  Riders would continue to make their way to the finish until almost 1am when one weary participant would arrive just prior to the cut-off.  While the course presented a hearty challenge to all no one was disappointed.  The route was high in scenic quality and most of the roads were rural and lightly traveled.   Riders and event staff were in agreement that the brevet was successful.  Click for results