Next Up - Princeton 600k 
Photo by Nigel Greene
Princeton 600k - Update June 21st
Cue-sheet, Safety info and logistical information are now posted to the web-site on the 2017 Events Page.  All materials are considered final.  A final list of registered riders is on home page.   We have a small army of volunteers on hand to attend to riders needs over the course of the 40 hour event.  
An optional check-in will be held at the Clarion Hotel on Friday from 6pm to 8:30pm.  This will be in the lobby.   A second check-in will be Saturday morning starting at 4am.   Riders late to the start may check-in up until 6am, but should be aware their is no additional time given for starting beyond the assigned start time.  
As always please contact us if you have any questions. 
Princeton 600k - Update - June 19th
This past weekend a pre-ride of the route was done.  Four riders rode together through the first loop.  They encountered some strong storms and were soaked through by the Belvedere control.   While conditions improved for awhile the group encountered more showers later on.  Despite wind and rain the 217 mile first loop was completed.  
The three riders who were continuing took some sleep at the Clarion - Palmer House hotel, after which they would press on for the second loop.  Conditions for the second day of riding were better then the first, but still not ideal.  None the less all three managed to make the finish with time to spare.
600k - Update - June 9th
There will be an experienced crew on hand for the event.  Riders can expect to be well looked after with volunteers staffing most controls.  Some mechanical support will be available at the Clarion Hotel and at selected controls.  Also most control points will have SAG capability as well.  
Knowing the challenges riders faced last year has prompted us to up the support level.  Our last two brevets had a 100% finish rate.  It is our goal to see that happen again.  Though we do ask riders to do their part in showing up with a well maintained bicycle.  Anyone who is uncertain of their bikes mechanical condition can contact our sponsor Pete's Bike Shop for a free check-over.  Four Randonneurs are employed there so they really know your needs.  
Registered Riders = 28 (Final) 
Eoghan Barry, Marc Bernardo, Joe Brown, Jan Dembinski, Alfred Dolich, Russ Dorobek, William Fischer, Michael Gorman, Vadim Gritsus, 
Nathan Herzing, Greg Keenan, Kate Marshall, Randy Miller, Yoko Miyazaki, Rajesh Nyack, Todd Peterson, Joseph Ray, Richard Ruge Bill Russell, 
Rudi Saldia, Paul Shapiro, Will Sherman, Chris Slocum, Dax Soule, 
George Swain, Victor Urvanstev. Jim Vreeland, Takeshi Wantanabe
We look forward to seeing you!
Joe Kratovil
RBA  New Jersey - New York
City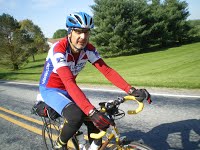 Past 2017 Events - Re-caps and Results
Twenty-six Riders Finish Batsto 200k
The Batsto 200k Season Opener took place as scheduled.  The weather forecast which predicted a cool day with rain showers kept a few registrants from taking the start.  The 26 riders who decided to clip in all made it to the finish and enjoyed a meal provided by our host, Lower Bank Tavern, where Bill's Veggie Burgers were reported to be a crowd favorite.  
Despite the less than favorable weather some riders took to the flat route in high spirits and turned in some fast times.  Jim Vreeland made it around in a very spiffy time of 7 hours 9 minutes, which is the fastest time on record* for the south jersey route.  Two other riders were under the 8 hour mark and a total of 11 riders were under 9 hours. 
Volunteers were on hand at all controls to provide water, energy bars and encouragement as needed.  All things considered it was a fine day for a South Jersey Brevet.  Click here for Results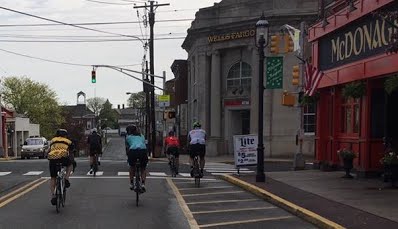 Cranbury 200k Riders in Asbury Park, NJ                      
Sixty-Two Riders Finish Cranbury 200k
In what is becoming a tradition for this spring brevet heavy rains combined with lightning moved in an hour before the start leaving behind a soggy wet Village Park.  The violent storm kept a few from making their way to the start, but the large portion of registrants would take to the roads on time.  
It was a warm morning which would quickly progress to the hottest day of the year.  This presented quite a challenge to many of the riders.  Volunteers were on hand at every stop providing water and much needed moral support.  Unfavorable winds would add to the difficulty factor on the second half of the route.  None the less a new course record was set by Jim Vreeland of Piscataway, NJ.   Vreeland bested the former fastest time by one minute.  There were a few other spiffy times, but most of the field just wanted to survive the day.  
A steady stream of finishers arrived at the Italian Touch Restaurant beginning in the late afternoon through to the early evening.  All finished in daylight and enjoyed Pizza and beverages.  The mood was festive with many lingering and chatting with fellow riders.  All but two that started found their way to the finish.  Navigation issues and a mechanical failure where the cause of the DNF's. 
Results are avalable at the link below.
Fourteen Complete the Challenging Englewood 300k
A cool rainy morning caused some suffering for the 17 riders who chose to take the start.  Twenty-two percent of those signed up decided to take a pass and stay home.  The first of the starters to bail out would do so after only an hour.  The first intermediate control at West Milford would see another rider pack it in.  A third would call it a day at Port Jervis with a knee injury. 
Weather improved by afternoon and the remaining field would have reasonable temperatures with light wind for the rest of the brevet.  A small army of volunteers were on hand to attend to the needs of the 14 riders who were still pedaling.  With the improved conditions no one else was destined to abandon.  
In just over thirteen hours Ian Mangion would find his way to the finish just ahead of Jim Vreeland.  Dougin Walker and Warren Finnerty would arrive together about one hour later.  Riders would continue to make their way to the finish until almost 1am when one weary participant would arrive just prior to the cut-off.  While the course presented a hearty challenge to all no one was disappointed.  The route was high in scenic quality and most of the roads were rural and lightly traveled.   Riders and event staff were in agreement that the brevet was successful.  Click for results
36 Finish the New Jersey Devil 300k
Southern NJ Brevet
All thirty six riders who registered for this first time event took the starting line and found there way back to the finish for a 100% success rate!  No one could recall an occasion when this ever happened before on an NJR 300k.  The weather was mostly favorable, with light winds, though some riders did get hit with passing showers.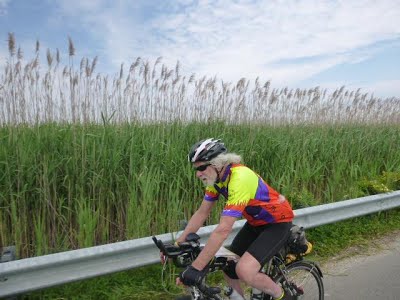 Bill Schwarz, from Edmonds, WA, on the Devil - photo by Nigel Greene
Bill Russell, from Vinyard Haven, Mass, aboard a Velomobile was the first to reach the finish in 9 hours 18 minutes.   Fredrick Akesson, from New York City, was the first rider on a traditional upright bike to arrive in a blistering fast 9 hours 50 minutes.  New Jersey's own Jim Vreeland was the next rider in with a time of 10 hours 20 minutes.  
The route was advertised as a fast 300k.   As confirmation of this 10 riders would complete the course in under 12 hours.  Although all riders were complimentary of the Rick Lentz designed route whether they experienced a fast finish or not.   
All riders were treated to pizza and beer at the finish in Hammonton.  Volunteers were present at all controls with water and moral support.  The final riders would complete the route just after 10pm with smiles.  Organizers and volunteers were smiling as well.  All were pleased with the success of the event.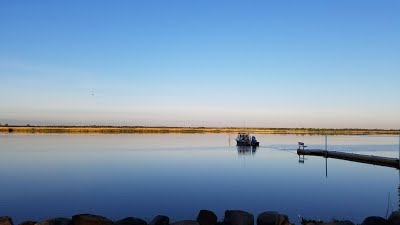 Photo by Michael Povman
Twenty Six Riders Finish Wildwood 400k 
The new Wildwood 400k route was put to the test by 26 riders who took the start from East Windsor at 4am in cool overcast temperatures.  After sunrise light rain showers moved about the area for several hours combined with cool temperatures and wind.  Riders appeared well prepared and suffering was minimal.  By early afternoon the weather turnaround was dramatic with clearing skies, sunshine, and mild temperatures.  This would hold throughout the day.  The evening hours would bring a return of cool temperatures, but conditions were still manageable.  Supported by many volunteers the field made good time.  All would find their way to the finish for a 100% success rate.  The first riders to arrive, Jim Vreeland and Dougin Walker, came in about 7:30pm and  the last two just after 5am.  Due to the flat route a few good size groups came in together with one numbering over 10 riders.  All were treated to sub sandwiches and beverages in the hotel lobby.  All appeared to be in good spirits.  
 photo by Steve Hallett