CRANBURY 200k - A New Jersey Classic
Cranbury 200k - Final Update 4/25/2017
Alll pre-rides have been completed.  The final ride documents consisting of cue-sheet and safety instructions are now posted to the 2017 Events Page.  Printed copies will be included in the rider packet on check-in from 6:00am to 6:55am Saturday morning at Village Park, Cranbury, NJ.  This will be followed by brief announcements and final instructions from the organizer.  The start will be promptly at 7:00am.  We suggest you allow ample time to be ready to start with the main group.  However, those arriving late to the start may check-in and start as late as 8:00am.  No extra time allowance is given to late starters.  The control times remain in force.
There is an experienced group of volunteers who will be staffing the control points along the route.  They will sign brevet cards, provide water and in some cases offer energy bars.  All controls will have additional food and beverage available for purchase.  
The finish at the Italian Touch Restaurant will be volunteer staffed.  Free pizza and beer will be on offer for all riders.  The Italian Touch is about one-half mile from Village Park where all riders cars will be parked.  
There is a good size field of riders to take to the roads.  See who is coming below.  We look forward to seeing you.      
Final Registered Riders 
Cranbury 200k - 71 as of April 28 12:00am
Daniel Aaron, Marc Bernardo, Christoph Boeckeler, 
Kathleen Bryan, Razvan Buciuc, Kathleen Casner, Mario Claussnitzer, 
Tim Conway, Michael Coward, Dawn Engstrom, Michael Evangelista, 
Luis Figueroa, Jose Folch, Mary Foley, Scott Franzen, 
Andrew Froberg, Michael Gorman, Vadim Gritsus, Judson Hand, 
Eric Hannon-Ford, John Heiman, Leonard Hooper, Dale Houck, Erica, Jacobs,  Eric Kahler, Nic Kozeniauskas, Joe Kratovil, Akira Kusui, Gil Lebron, Rick Lentz, Kenneth Levins, Jonathan Levitt, Loukia Lili-Williams, 
Jeff Lippencott, Ian Mangion, Rick McKee, David McNeary, Randy Miller, 
Yoko Miyazaki, Irving Navarro, Rajesh Nyack, Luciano Oliveira, 
William Olsen, Todd Peterson, Michael Povman, Victoria Ramirez, 
Paul Reh, Sean Ringgold, Gary Rollman, Richard Ruge, Rudi Saldia, Emmanuel Sannon-Jules, Paul Saporito, Bastiaan Schuttevaer, 
Will Sherman, Chris Slocum, Ramon Soto, Dax Soule, Daryl Southwood, James Spillane, George Swain, Marc Swier, Timiraos Ricardo, Bob Torres, 
Tru Tran, Nicolaas Van Der Kloot, Alexy Vishnyakov, Jim Vreeland, 
Takeshi Watanabe, Jenny Zarzuela, Oliver Zong
Registration for this event is now closed!  Sorry, we do not except day of event sign-up!
May Events
For May our 2017 calendar will feature two 300k ACP Brevets, the first being the challenging Englewood 300k on May 20.  This will be followed one week later by the considerably flatter New Jersey Devil 300k from Vineland on May 27th.  This is a new route desinged by Rick Lentz.  RUSA has approved this course for our use this season.  This is ideal for those who are new to the distance.  Fast times are possible.       
Englewood 300k
The first challenging brevet of 2017
With the fine weather that May will bring to the region we provide the opportunity for a hilly 300k brevet.  Starting on the New Jersey side of the Hudson River we will venture to New York State.  The challenging terrain that lies within will be an excellent way to test ones fitness and prepare for the longer brevets of the season.  The Englewood 300k is set for Saturday, May 20th with the start and finish at the Crown Plaza Hotel in Englewood, NJ.  This  is the third running of this route with the last time held being 2015.  It will be a supported event with SAG service available should the legs grow weary before the finish.  Additional information, including hotel details are on the 2017 events page of this web-site. 
Should the challenge of a hilly New York 300k not be to ones liking there is another option.   just one week later the considerably flatter New Jersey Devil 300k from Vineland will be held.  This is a new route desinged by Rick Lentz and is ideal for those who are new to the distance, or anyone looking to post a fast time for 300k.  Many riders are planning to do both brevets.  More details are available for the Jersey Devil 300k on the 2017 Events Page.        
June Events
This year the 400k route will feature a new route with Wildwood, NJ as the turnaround point in lieu of the previous destination of Salem.  Other route and control changes have been submitted to RUSA and are close to receiving approval at this point.  This brevet is scheduled for June 3rd.  
Scheduled for June 24, and back by popular demand is the Princeton 600k.  This two loop route, with a challenging first loop, proved difficult to conquer on our first running of it last year.  Heat and high winds, along with a wildfire, were responsible for many DNF's.  None the less, when put to a majority vote it won out over all other options.  
We look forward to seeing you!
Joe Kratovil
RBA  New Jersey - New York
City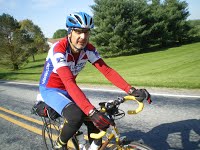 Past 2017 Events
Twenty-six Riders Finish Batsto 200k
The Batsto 200k Season Opener took place as scheduled.  The weather forecast which predicted a cool day with rain showers kept a few registrants from taking the start.  The 26 riders who decided to clip in all made it to the finish and enjoyed a meal provided by our host, Lower Bank Tavern, where Bill's Veggie Burgers were reported to be a crowd favorite.  
Despite the less than favorable weather some riders took to the flat route in high spirits and turned in some fast times.  Jim Vreeland made it around in a very spiffy time of 7 hours 9 minutes, which is the fastest time on record* for the south jersey route.  Two other riders were under the 8 hour mark and a total of 11 riders were under 9 hours. 
Volunteers were on hand at all controls to provide water, energy bars and encouragement as needed.  All things considered it was a fine day for a South Jersey Brevet.  Click here for Results